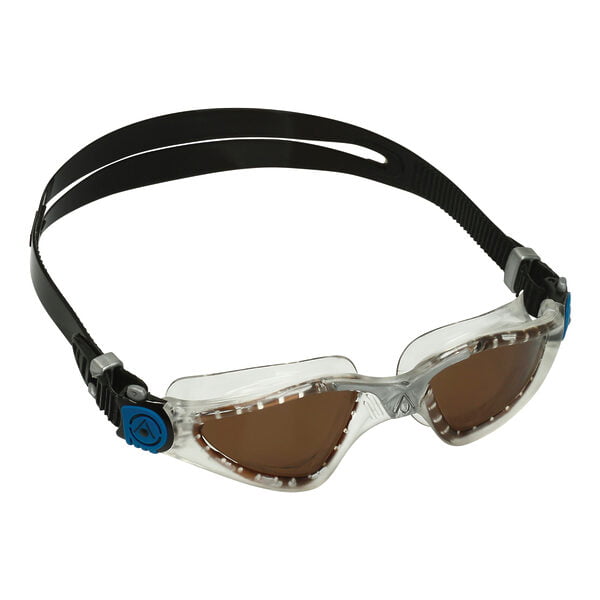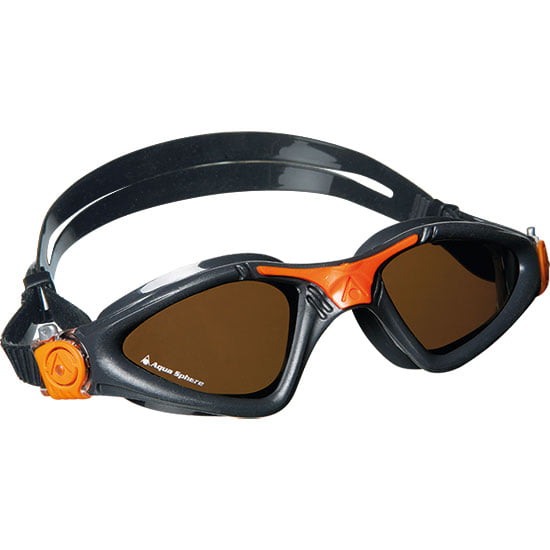 Kayenne Polarised Swim Goggles
฿ 2,250.00
The Kayenne Goggle opens up the playing field – quite literally. Oversized lenses with our patented curved lens technology gives you style while providing an undistorted, expanded, 180-degree field of vision.
Description
Kayenne Polarised Swim Goggles
The AquaSphere Kayenne Polarised Swim Goggles has unique, oversized lenses that use patented curved lens technology to give you an expanded 180° field of vision.
The lenses are made from Plexisol, a material that is ultra-durable (10x stronger than glass and 100x lighter) and distortion-free. The vision is further enhanced by AquaSphere's advanced polarised lens technology to reduce glare and a special anti-fog treatment for uninterrupted clarity.
Out of the water, a scratch-resistant coating will help keep the goggles free from scratches and they also come with a hard, protective goggle case. All AquaSphere Goggles have 100% UV protection, ideal for Australia and New Zealand where we experience some of the highest levels of UV radiation in the world.
A Comfortable, Leak Free Fit
The Gaskets in AquaSphere Googles have an exclusive shape that ensures the sealing portion of the skirt gently conforms to the swimmer's face for a comfortable and leak-free fit that won't leave marks around your eyes.
This extraordinary comfort is enhanced by the use of Softeril, a proprietary material much softer and gentler than materials used in traditional swimming goggles. One-Touch Buckles make strap adjustments quick and easy, whilst the stabilizing nose bridge keeps fitting secure and comfortable. The strap is made from surgical grade silicone for comfort and longevity.
Superior Performance
The Kayenne Polarised Goggles have a streamlined design with a low profile micro-frame that keep the goggles close to the swimmer's face, reducing the internal volume for superior hydrodynamics. Used by professional athletes around the world, the AquaSphere Kayenne Polarised Goggles are one of the best performance swimming goggles on the market today.
Kayenne Polarised Swimming Goggles are a great choice for open water swimming, competing in a triathlon or swimming laps in the pool.
The AquaSphere Kayenne Polarised Swim Goggles are also available in a Smaller Ladies Fit
LENS: Kayenne polarised swim goggleENVIRONMENT : Outdoors – Bright conditions
Polarised lenses offer improved color and depth perception by filtering out the sun's horizontal light rays to eliminate glare reflected off the water, increasing contrast for a sharper and improved vision and reducing eye strain.
FEATURES AND TECHNOLOGY
CURVED LENS TECHNOLOGY – AquaSphere's patented curved lens technology offers the clearest possible visibility through superior optics engineering. It is  based on 3 keys placed radii and virtually eliminating distortion. It will deliver an uninterrupted, 180° wide field of vision with exceptional hydrodynamics.
PLEXISOL LENS – Sourced in Italy with excellent anti-fog properties. Plexisol is ten times stronger and also hundred times lighter than glass. The Plexisol is ultra durable and distortion free.
QUICK FIT BUCKLES – It makes the goggle easy to operate. The push button buckle adjustment makes teh tightening and loosening quick and simple.
SOFTERIL – A proprietary material substantially softer and gentler to the face versus the traditional TPR (Thermoplastic Rubber) materials used by other brands. It is shape-retaining, hypoallergenic and contains no harmful material.
STABILISING NOSE BRIDGE – Providing great dimensional stability and comfort.
ANTI FOG – The lenses are protected by special anti-fog with anti-scratch treatments.
LATEX FREE – All AquaSphere goggles and swim mask materials are hypoallergenic and latex free.
SILICONE STRAP – It is Surgical grade Silicone provides optimum, long-lasting comfort and product longevity.
PROTECTIVE GOGGLE CASE – Packaging is designed to be used as a protective goggle case.
100% UVA / UVB PROTECTION – Essential protection against the high levels of UV radiation experienced in Australia and New Zealand.
WARRANTY – 12 month limited warranty
MADE IN ITALY – All AquaSphere Swimming Goggles are made in Italy with superior research, craftsmanship and design.