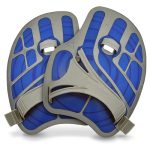 ErgoFlex Hand Paddle
฿ 1,150.00
The innovative construction of the ErgoFlex hand paddle combines stiff polypropylene "bones" with a soft and flexible rubber frame which offers resistance while providing a feel for the water.
Description
AquaSphere ErgoFlex Hand Paddle
The Ergonomic contour of the ErgoFlex paddle is designed to mimic the shape of the hand and allows for micro adjustments of the hand position during the pull phase of the stroke. The increased "feel" for the water translates to increased stroke proficiency when the paddle is removed. The wide hand strap is adjustable for a customized fit and can be removed for optional finger only use. The rubber frame of the paddle also makes it safe to use with multiple simmers in a single lane.
Features :
"Bones" provide structure, while rubber frame maintains flexibility and feel for the water
Contoured fit mimics proper hand positioning
Rubber frame makes paddle safe for use with multiple swimmers in a single lane
Wide, adjustable hand strap for custom fit
Available in two sizes